REVIEWS
"The Bridge To Where You Are" by Mirabai Moon (Album Review) by James Braymiller, the Sloppy Bhakti
May 22, 2018
"The Bridge to Where You Are" is an aptly titled bhakti album by the powerfully devoted kirtan wallah Mirabai Moon.  The first time I heard Mirabai was when I was beginning to learn the Hanuman Chalisa, a 40 line Sanskrit chant to Hanuman, a monkey god who represents pure devotion to both Ram and Sita, whose relationship is the total union of both the masculine and feminine aspects of God.  At the time I was going around "trying on" different Chalisas to learn from, and when I came across Mirabai's I was floored and completed whisked away.  It was as if she was weaving this beautifully subtle, intricate story-web.  It felt cosmic, airy, and holographic, and through it I was able to intuit the epic devotional story of Hanuman, as each word and note completely perforating and permeating the scene.  A year later, I feel honored and humbled to have the opportunity to delve into and review "The Bridge to Where You Are," Mirabai's first full-length album.
While cruising the winding Blue Ridge Parkway along the awe-inspiring Appalachian Mountains, I turned on the album and let the Mystical Kirtan of Mirabai Moon wash over me.  The first soft notes began budding out of the album in what felt like total congruence with the opening of springtime on the mountains around me as I drove.  As Mirabai's voice floated out of my speakers with the same soft and floating whimsy of smoke rising from incense, I could feel the music encapsulating me in an auditory blanket of delicate and refined loving attention.  Mirabai's voice is powerful, soft, melodic and mindfully caring, striking me sonically as the divine feminine coming through to awaken us in the time when it is so needed on this earth.  You can tell through her singing that she is not "trying" to become anything, or go anywhere, or change what is.  She is simply being.  She is pure is-ness, and that is-ness, that total sense of here-ness is contagious, and through her music is a gift she is giving anyway who takes the time to listen.
The album itself is as twinkling, shimmering, glimmering, and balanced as the night sky reflected in the clear ocean.  It's this clarity that allows a mirror like reflection of the mind, softly dissipating our "story of me" and gently placing our awareness right Here in the moment.  This crystal-like lucidity of the music is accompanied by the pure devotional bhav that her mantras so passionately exude.  This, to me, is pure bhakti, and the essence of it I can try to describe, but it's spirit is beyond words and is something that must be heard to fully experience.  "The Bridge to Where You Are" is truly a full and totally encompassing album, keeping a perfect balance between deep, dark, obsidian chants that take you on a powerful journey through the shadow, contrasted with light effervescent devotional romps with the boundy eclecticism of birds swooping in and out of clouds in unison.  
Mirabai has created an auditory portal to the purity of the devotional yogic experience.  Bhakti yoga is based in union, a dualistic path that finally merges into the One, the One that is not separate from the Here and Now.  "The Bridge To Where You Are" is just that.  It is a musical journey that will take you on an expedition through lively settings, lush forests, hypnotic serenades, dark hollows, and celebratory sunshine, but that journey will always lead you right to where You are.  Mirabai Moon, with this album, offers a sensuous and enlightening devotional ride filled with an endearing and graceful whimsy that will undoubtedly lift your spirits and bring you right into the lap of the joyful present.
OTHER REVIEWS:
"Mirabai Moon's album is THE BOMB!"  Bhakti Beat
"Mirabai Moon's music opens my heart."  Steve Gorn
"Forget any preconceptions you may have about what this CD may be like, and simply experience it!  It will deliver a joyful and peaceful feeling that lasts way beyond the day you listen to it.  Mirabai's vocals are a soothing and rare combination of delicacy, power, and sustain, that is delightful to listen to.  All of the musicians that perform on this CD are outstanding, and the music was obviously recorded and mastered by talented and experienced audio engineers.  If you would like to put something on and have your stress melt away, buy this CD!  Gregory Galfo, producer/engineer for Anvil Records
"I'm so proud of my friend and colleague Mirabai Moon, whose latest album "The Bridge To Where You Are" is her very best yet.  I playfully call her 'the Joan Baez of Kirtan' because of her strong, clear, expressive voice, her guitar playing, and her heartfelt songwriting.  Yogi friends and anyone who enjoys traditional Sanskrit chants given new musical life, check it out!"  Perry Kroeger, artist in residence at The Growing Stage
What fan's are saying...

"Listening to Mirabai Moon sing is like hearing a soulful, beautiful transmission of the divine."   Lauren Rutten
"Mirabai exudes a radiant, transcendent beauty.  There's a clarity about her that's intriguing and inspiring!"  Lisa Adams

"If you hear Mirabai sing, it's from the heart and it's right on.  I would strongly encourage anybody to go to a kirtan with Mirabai and her wonderful group."  Peter Kasturas

"I went to see the Mystical Kirtan of Mirabai Moon for the first time and was blown away by her DYNAMIC Bhakti style and grace. I see a shooting star! If you are curious...Look her up on you tube ...I hope some of you will get to see her on tour. It was truly a mystical experience."  Dale Caron

"Seeing Mystical Kirtan was a defining moment in time for me.  The type of Sound her "band" creates is penetrating ....as she said it so perfectly ... As when you drop a pebble in the water and you watch the waves of ripples move outward. This music and the call and response chanting of unified voices, succeeded to make its way into my heart and touched my soul.  Completely beautiful."  Magdalena Livolsi
"Mirabai's energy is ground breaking, moving mountains!" Jeff Bond
 
"Mirabai's chanting is truly magical and mystical."  Shakti Devi

"Mirabai has the voice of an angel!"  Kenneth Hahn
 
"Beautiful heart opening sweet sweet sounds.... Mystical Kirtan opens my heart and make me feel so in connection with everyone around me in spirit.  Mystical Kirtan is this amazing event that invites you in to the experience of joy, heart, voice, connection to Spirit, IT'S BEAUTIFUL!  I highly suggest you check them out!"  Junie Moon Schreiber

"It is difficult to describe the experience. Mirabai, you do an amazing job of bringing this tradition alive in today's culture. What is sacred is sacred. You have chosen amazing work.  It is a real surprise knowing you are in the world."  Guy Nouri

"Mystical Kirtan...my spiritual grounding...I can't wait!"  Tom King
"I'm fussy about my kirtan. I tend to like it straight up, 'traditional' (at least traditional for an American audience, LOL), no musical 'liberties' thank you, so although I go to 'other' kirtan concerts with an open mind and heart, I don't always expect to hit the sweet spot and wind up in the 'bhakti zone'; that place where the deliberate nature of the lyrics and the music are meant to take you.  Friday night's kirtan with Mirabai Moon definitely ranked up high on my personal kirtan charts. The vocals were superb; Mirabai's voice was amazing and the other members of the band really rocked the vocals, too. But it was the 'rock' nature of the music that was the really pleasant surprise. I've heard it done by other professional musicians with strong backgrounds in other styles of music and been very disappointed. I've found out the hard way that it's not the musicianship of the group per se that rocks my world, at least not in theory because some of the people I've listened to are supposed to be professional musicians, but i know when i leave a kirtan event without hitting the 'sweet spot' and when that happens there's definitely a 'hungry' part of me that is terribly disappointed. Kirtan is definitely my spiritual practice, so maybe I'm expecting too much, but there's that ineffable something that has to come together for me; a magical combination of music, mantra and creating a sound container that allows everyone to leave their pedestrian cares behind and open up their hearts and their chakras and just be. Whatever the magic formula is, Mirabai Moon and friends have it and i hope to see them perform again and again. thanks guys, you rocked my world!" Elaine Knap

"Mirabai Moon, It was my good fortune to be able to see you perform at OMFest Sunday morning. To be honest I wasn't prepared for the energy surrounding the fest as I only attended Sunday. I was enamored with your performance and the liminal atmosphere you created with your intention and surrender. I would say you have presence, but it's more so you allow yourself to be a conduit for presence. I only began to really tap into it close to the end of your performance. I enjoyed letting you guide my moving meditation as I slipped away into the garden of darkening light that the eyes cannot see. So I say thank you. To you, to the moon, to all things divine feminine, and your vibration. It was nice to be around so many people who were open and feeling connected. It's not my usual fare, but like a starving man I voraciously consumed. Now we are under the waning Gemini moon and I'm looking backward and forward, feeling that freedom once again. That freedom that lets your bowls sing, that freedom that rises from your heart into your throat and out into the heard world. I am grateful to you."  Terry Ingram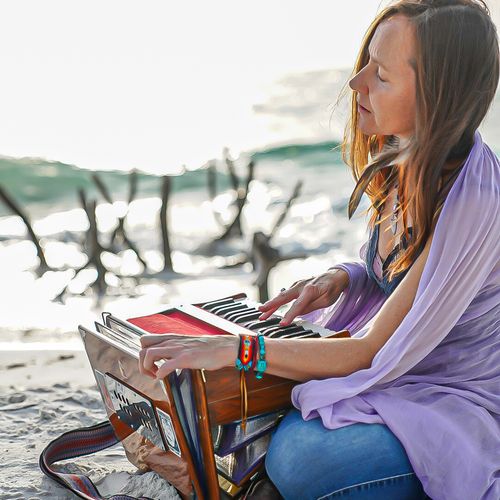 Your contributions to keep the music going are always deeply appreciated. Thank you!
Enter the amount you wish to donate