Namaste
A soulful, beautiful transmission of the Divine...Mystical Kirtan with Mirabai Moon offers a passionate embrace of the Divine Essence right here, right now... in your embodied, human form, just as you are. 
      "Mirabai Moon is a Kirtan soul angel who uplifts the Spirit.  Her voice is exquisitely tuned and her warmth fills your heart. Don't miss her!" Gary Goldberg of WRPI, In The Spirit Radio
      "Mirabai Moon's music encapsulates me in an auditory blanket of delicate, refined, loving attention.  Her voice is powerful, soft, melodic, and mindfully caring, striking me sonically as the divine feminine coming through to awaken us in the time when it is so needed on this earth."  James Braymiller, The Sloppy Bhakti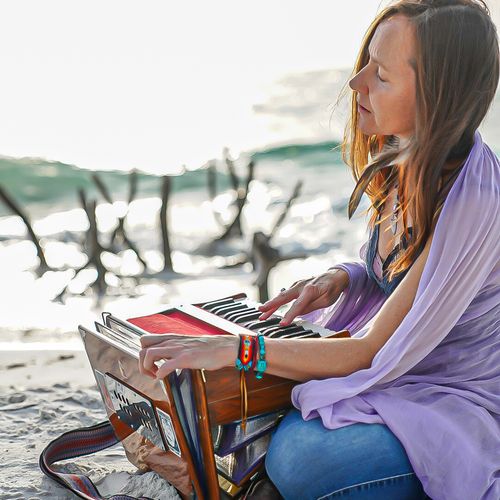 Your contributions to keep the music going are always deeply appreciated. Thank you!
Enter the amount you wish to donate
New November 2021 Release...Reggae Radhe Shyam!
For 10% off full ticket price, use code: MIRABAI10
Peace, love, harmony, wisdom, joy... these are the fruits of a harvest of light. Come join us in the safety and nurturance of women's sacred space, as we cultivate our inner spiritual light and harvest its fruits.with special gu September 23rd through 25th 2022 at Amethyst Retreat Center, Duncannon PA Our retreat facilitators Mirabai Moon of Mystical Kirtan and Chelsea Parcels of Prema Vibrations are so thrilled to be offering this healing weekend for women. What to expect: Yoga. sound healing, guided forest meditation, spiritual ritual, dancing under the stars, chanting by the fire, heart sharing circles, intention setting, support and connection. Highlights: Friday night Divine Mother Chants with Mirabai Moon Morning Yoga with Chelsea Parcels Saturday afternoon forest sound bath with Mirabai Moon Saturday night Harvest of Light Ritual in the prayer labyrinth followed by Fireside Kirtan led by Mirabai Moon Delicious and nourishing meals prepared by Lisa Burke *Body work by Erica Shaffer Vegan, Gluten Free, and Dairy Free meal options will be available. Investment (all inclusive): CAMPERS $330 (you provide your own camping gear) EARLY BIRDS $305 SHARED ROOM $430 for a twin bed (triple occupancy room) EARLY BIRDS $395 SHARED ROOM $460 for a Queen size bed (triple occupancy room) EARLY BIRDS $422 PRIVATE ROOM $630 for a Queen size bed (single occupancy) EARLY BIRDS $575 Please message Chelsea or Mirabai if you are interested in sharing a Queen size bed with a friend or partner. We will extend you a discount of $30 each.
Early bird discount until July 15th
Released October 25th, 2020 ~ Earth Angels Anthem is available for download in the Mystical Kirtan Music Store and is also available on Spotify and on all major streaming platforms.